Guest Post By Madhavi Mukherjee on Post Covid Travelling with Kids
Travelling now no more conjures up happy thoughts, exciting memories or nervous but happy butterflies in your tummy. Travelling now comes with a plethora of documents, rules to follow, anxiety hitting the ceiling, sweaty palms and brain fog. You also need to also check Foreign travel advice for different countries. I hope you are not asking me, Why?!
Because we also know about 'The Great Pause' or 'The Damndemic'. Yes, it is on its way out, that which I wouldn't name and the world is slowly opening up, or at least trying to have a semblance of some sort of normalcy. But yes, travelling has changed for the best of us and it's not planned vacations yet (not for many), unless extremely essential.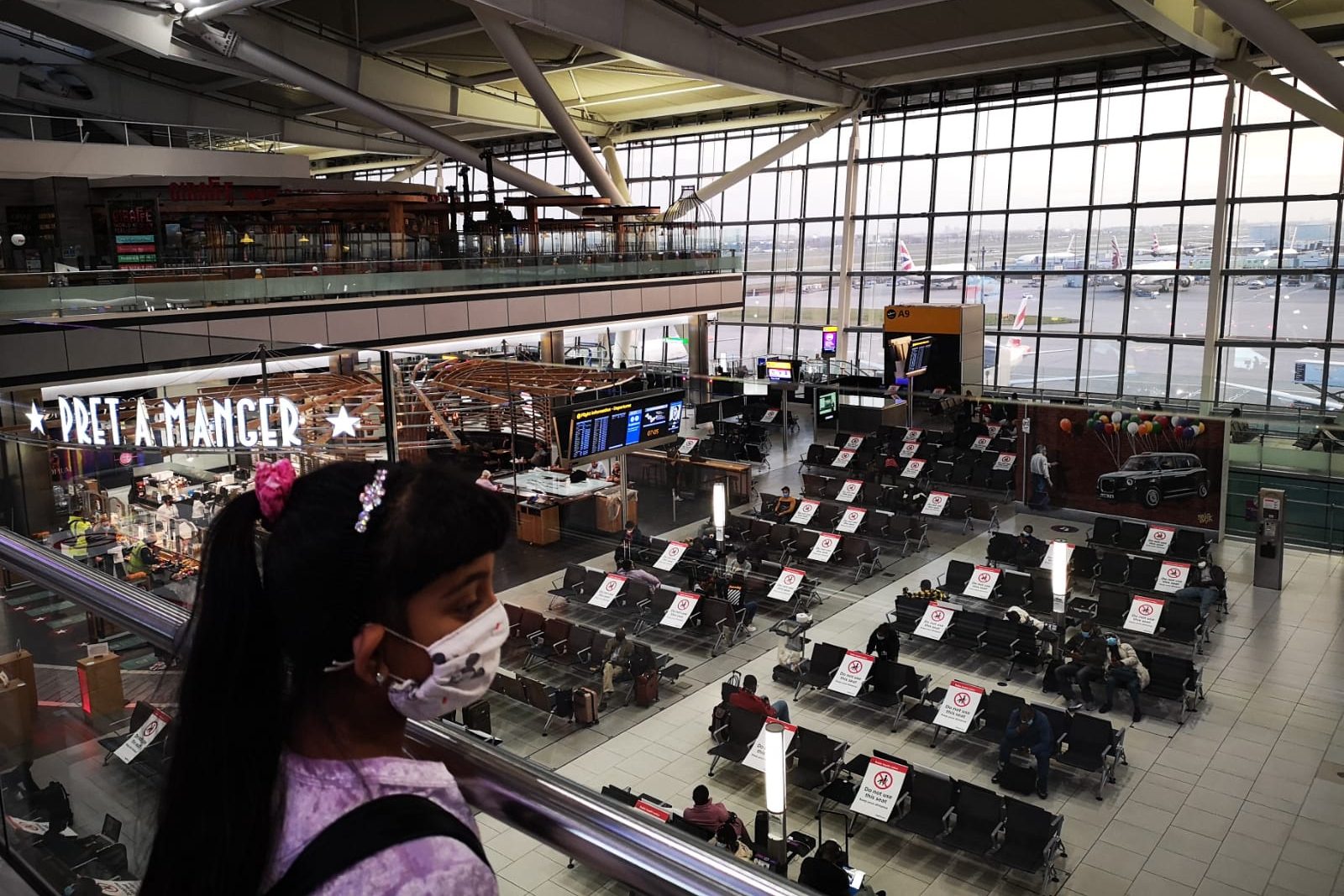 Now throw a kid in this entire anxiety-ridden situation, and you have a whole lot to remember and get accustomed to when it comes to travelling with kids. I travelled to India from the UK last December with my 9-year-old in tow and we got stuck back at home because fresh lockdown reservations came in.
So anyway, how do you travel with kids in these times of uncertainty? Trust me, every phase of childhood has travelling rules and adolescents are not to be spared, and this article right now is dealing with air travel only). I hope you are taking down notes or maybe saving this piece ????
May I remind you to not forget in all this chaos to buy your mementos during your trip.
This post contains affiliate links to various products and if you buy anything by clicking those links, I earn from qualifying purchases at no extra cost to you. To find out more, you can read my disclaimer here
Travelling with Kids – Top 10 Tips
Prioritise & Plan Ahead
Many are still avoiding travelling with kids. The reasons could be aplenty (steep airline ticket costs, uncertain border control rules – your child could end up missing school if your home country has all restrictions lifted and there is a lockdown at your destination country). So take into account everything, prioritise and then plan.
Sanitise! Sanitise!! Sanitise!!!
Kids will remain kids and I have one to tell you, that even an almost 11-year-old forgets they are not to touch their faces. So calm down, train yourself to not raise your voice and rather just squeeze the sanitiser bottle
No Touching
No matter how repetitive they think you are, keep reminding them that they are not to touch surfaces, handrails, caress doors and walls etc. You might want to keep antibacterial wipes handy.
Handy First Aid Box
Keep a portable first aid box handy. Paracetamols, sanitisers, thermometers, oximeter, inhalers are all crucial – more now than ever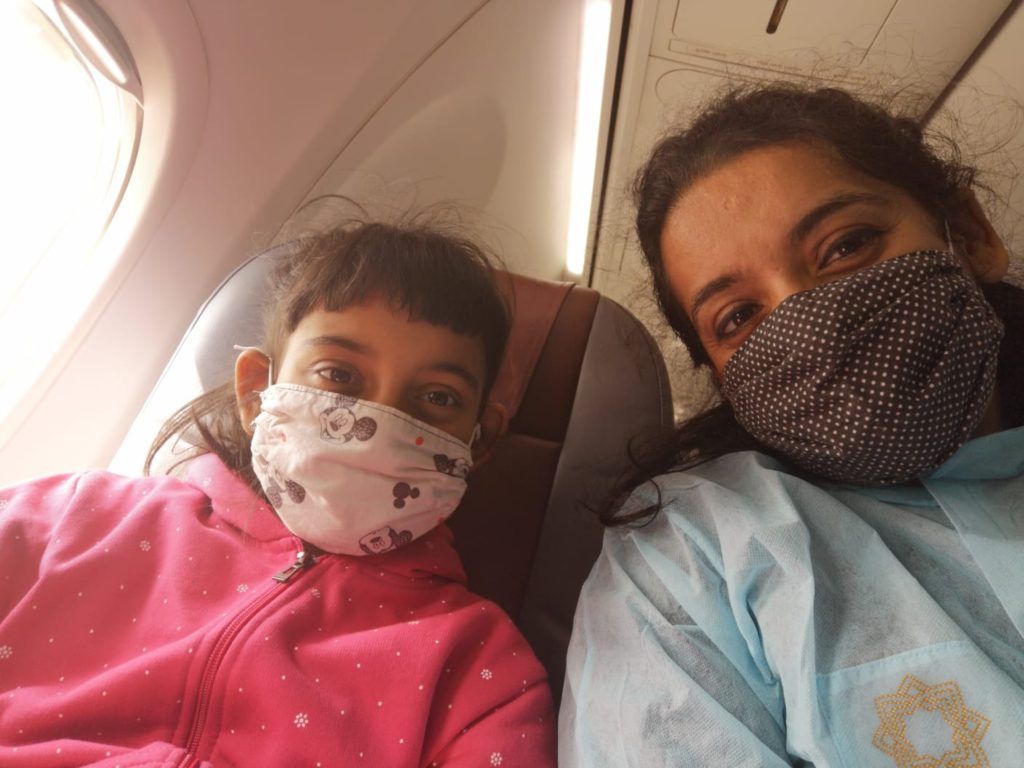 Get that Steam
Get into the habit of steam inhalation every time you come back from a public place, at the end of the day and saltwater gargles
Own Food
Carry food with you always, no matter what class you fly to and what airlines. I learnt it the hard way. I was travelling with my two-year-old many years back, and it was my first international flight. The food heating panel got burnt (don't ask), mid-air and there was no food for anyone in the entire 9-hour journey, except for peanuts and water (literally!).
Thankfully, I had packed puris, cheese sandwiches and biscuits etc. which was my saviour for my child and for us. And since then, I have always carried food with me, no matter what
Reusable Bottles
Carrying reusable bottles may be a good idea, especially the hot and cold bottles. You can fill them with coffees, hot chocolates or milkshakes for later. In a journey, where the layovers may be long and tedious, trust me, this could save you money and hyperventilation
The Mask
The elephant in the room – The Mask. You cannot avoid it, you cannot negotiate your way around it and it's a must-have. Masks are uncomfortable, no matter how great the pattern, design and fabric. And more so, for kids and elderly people.
There is no way out except for constant communication, a reiteration of how risky not wearing a mask maybe. Be prepared for some long haul whining, but try to distract them with movies, books etc. As I said, there is no negotiation on this.
Extra Small Bag
Keep two to three masks handy, per person. It is advisable not to wear the same for more than four to six hours continuously. Remember to change the masks and keep the used ones in a separate pocket or plastic bag till you get home. So that's when that extra small bag comes handy.
Talk it out with Kids
Self-isolation can be equally hard on kids. There is no better solution than good communication and explaining why it is necessary. Explain the government's stance and how it helps and how we all behave as responsible citizens, by following the rules.
Kids like to be told they are responsible for someone else. It makes them feel they have the ownership, makes them feel like a grown-up. Use it to your advantage and see how they follow all the rules and regulations
My daughter is just 10, and still gets excited about travelling, no matter the pandemic. I don't want to rub my anxious air on her. So I try to keep calm myself, by reading the rules thoroughly, following everything to the tee, doing due diligence and not trying to get out of following the rules.
I try to tell her that we don't find it easy wearing a mask too, but we are responsible for everyone's health and she gets it. Children are resilient, more than we can imagine. They just need to be taken into confidence. It's not that hard. Keep calm and carry on – all else will fall in place… including the mask on your face.????
So which place are you going to visit in near future? For inspiration in visiting Hampshire check out the blog here.
About Madhavi Mukherjee
I am Madhavi Mukherjee and am based out of the UK. I am marking time as a Solopreneur, running my business called The Green Slate, where I make handcrafted products.
In my previous avatars, I have taught at Wilson College, Mumbai (India), have been a Director of Public Relations and am now working from home. I am also a blogger and love to go on long walks with my daughter and husband in my spare time. I am a big lover of chai and gupshup and books on my mantle.
You can check her socials below:
Shop – Green Slate
Blog – Our Moina
Instagram – @maddzz78
So are you planning any travel with kids abroad? Maybe during Christmas ….. In that case you can check this blog post by a fellow blogger on Ways To Celebrate Christmas Outdoors
I hope you enjoyed reading this blog post on travelling with kids post covid. Are there any tips that you want to share with us? Don't forget to comment below about it & also leave us feedback on how you like this blog.
I always like to hear back from my readers. You can also mail me at admin@momkidlife.com if you have any story to tell.
If you want to write a guest post for Mom Kid Life, do go through the guidelines for a guest post here