Top tips to hold newborn baby
Early days with your newborn are not only exciting but also overwhelming. Especially for new moms who worry about how to hold newborn baby. Mums should be encouraged to have a skin to skin contact with baby as soon as it is possible to do so. Parents go that extra mile to see that they are taking all the measures to take care and hold newborn baby in the most appropriate manner. Who would not want to know the right way to hold newborn baby?
So lets get started with the different methods to Hold Newborn Baby
Firstly wash or sanitize your hands before you hold your baby as your baby's immune system has not yet developed.
While picking up a baby, place one hand under their head and the other under their bottom to raise them up to your chest level. Always ensure to provide support to the baby's head while you are picking up or holding him or her.You need to hold your baby in a cradle form giving full support to neck & head. Baby's neck muscles are not yet developed & hence cant hold up the neck. At the same time baby's head is heavier than other parts of the body. So it is very important that you hold baby's neck & give support to the head too. Your other hand should be supporting your baby's bottom.
1. Cradle hold
You can hold your baby in a cradle position by keeping your baby horizontal at your chest level and sliding your hand from their bottom up to support their neck. Gently nudge baby's head into the crook of your elbow. While still cradling their head, move your hand from the supporting arm to their bottom.
2. Shoulder Hold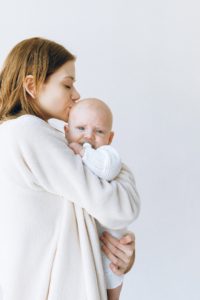 This hold allows your baby to listen to your soothing heartbeats. Lift your baby to your shoulder height with the baby's body in a parallel position to you and allow your baby to rest his or her head on your shoulder. Support your baby's head and neck with one hand and bottom with the other.or against your shoulder. Whichever position you choose also support neck & head with one hand & bottom with another hand.
3. Belly Hold
This one is best to calm down a fussy little baby. Lay your baby, stomach down, across your forearm with the head up toward your elbow. Make sure that the baby's head is turned outward, resting near the crook of your arm. Their feet should land on either side of your hand, angled closer to the ground so the baby is at a slight angle. This position is helpful if baby is gassy and needs to be burped. Gently rub baby's back to work out the gas.
4. Face to face hold
This position is perfect for interacting & bonding with your baby. In this position let the baby face you. Support your baby's head & neck by one hand & bottom with the other hand.
5. Hello world hold
This position can be used when you have a very excited & active baby who wants to make contact with the world. In this position you hold the baby's back to your chest & let the baby face the world. That way your baby's head is supported. You keep your arm across his chest & the other hand on the bottom for support.
6. Football or a Clutch Hold
To achieve the football or a clutch hold, place a pillow next to you. You support your baby's head in your hand using your palm and support his back along your arm beside you and nestle your baby's side closely against your side. Your baby's feet and legs should be tucked under your arm. This is a very convenient breastfeeding position for a mom who has undergone C-Section or Caesarean operation during childbirth.
Tip for Pillow
I used a Widgey Pillow for breastfeeding both my kids. You can get yours here :
Widgey 5-in-1 Feeding Pillow | Widgey Pillows
7. Lap Hold
In this position one has to keep their feet firm on the ground & place baby on the knee facing upwards. Use your hands under the baby's head & neck for support and arms under your baby's back for supporting baby's body.
Hope these methods of holding your new born baby would have helped you decide which position is good for you. To be very frank, no one position is the best for your baby as your baby may have different mood swings to be held in different position at different times. You should also be ready to accept that challenge & hold your baby in a manner in which you can keep your baby happy.
Enjoy holding your precious world in your arms
Friends, if you find the above information useful, do share with your friends & family who might benefit from this information.
Also let me know about your experiences & what do you feel about my blog by commenting in the comments section. If you want to email me your feedback or want to just drop me a hello & a message feel free to email me at admin@momkidlife.com
All your comments, suggestions & messages are welcome ????????